Brent Venables, the head coach of Oklahoma, is considered one of the best coaches in the country. His coaching career has always been a subject to talk about and he is also a devoted coach who always looks a step forward. Brent Venables' family, especially her wife, has been making some headlines but those aren't because of any good cause. Julie Venables has been diagnosed with cancer and in this article, we'll take a deeper look into her life.
Who is Brent Venables' Wife?
Brent Venables' wife is Julie Venables. They have been married since 1997 and have four children together; two girls, Addie and Laney, and two boys, Jake and Tyler. Julie Venables is a private person and does not have a public profile. However, she is a very kind and supportive spouse and has been with Brent for over 2 decades.
Early Life and Career
Julie Venables was born on September 14, 1973, into the Fischer family, in the town of Hutchinson Kansas has always been an independent person. Her unwavering dedication has led her to a career in nursing, where she has tirelessly served at known hospitals showcasing her commitment to healthcare.
Her enduring marriage to Brent Venables, a journey that has spanned over twenty-five years stands as a testament to their bond. Unfaltering support for one another throughout the years. Their partnership serves as a source of strength for both of them and continues to thrive.
Julie Venables Cancer Diagnosis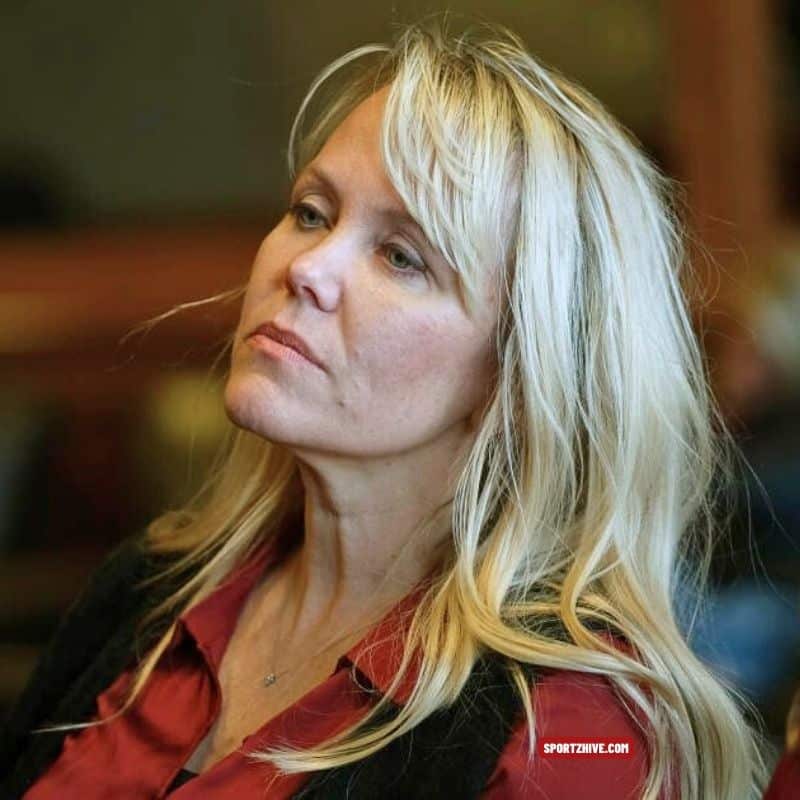 During a press conference, at Oklahoma University Media Day Brent Venables, the head coach of Oklahoma University shared the news of his wife Julie's breast cancer diagnosis. The family got to know about the diagnosis on June 16, 2023. The impact of this revelation on their family was immense as Brent related it to his mother's battle with cancer in 2005 emphasizing the devastating nature of such a diagnosis.
In the face of adversity, Brent Venables spoke about how their unwavering faith and the power of prayer provided comfort during these times. He also expressed appreciation for the support they received from various sources including medical professionals, university administrators, colleagues, players, parents, and friends.
This incredible outpouring of support demonstrated the strength of their community and the deep connections they had formed throughout their journey, in college football. In a recent interview, Brent Venables mentioned that his wife "is a fighter" and she'll undergo another surgery in November 2023 and they'll be gone for a while.
Oklahoma HC also said that he has a perfect game plan for upcoming games. Venables got quite personal while talking about his wife showing his love and concern towards Julie. Brent Venables remained optimistic believing in surgery, without the need for radiation or chemotherapy. He emphasized Julie's strengths and her background as a nurse.
As he started his season as Oklahoma's head coach there was a prevailing feeling of hope despite the challenges faced in the year. The unity and unwavering faith of the Venables family continued to demonstrate their resilience not as a coach and spouse. As a strong team facing the formidable opponent that is cancer.
Brent Venables Coaching Career
Venables started his coaching career as an assistant, at Kansas State University in 1993. From 1996 to 1998 he was promoted to the position of linebackers coach. In 1999 Venables joined the coaching staff at Oklahoma as the defensive coordinator and linebackers coach.
During his time at Oklahoma Venables consistently led top-tier defenses that were among the best in the country. His exceptional coaching skills were acknowledged when he received the Broyles Award for being the nation's assistant coach in 2011. In 2012 Venables made a move to Clemson University where he continued his success as their coordinator.
At Clemson Venables continued to develop defenses. Once again earned recognition by winning another Broyles Award in 2016. He also received the Frank Broyles Award as the nation's assistant coach during that same year. Additionally, Venables was honored with the Dodd Trophy for being recognized as the nation's coach, in both 2011 and 2016.
In 2022, Venables returned to Oklahoma as the head coach. He led the Sooners to a 6-7 record in his first season.
Recommended For You:
Jordan Travis Ethnicity and Nationality: Tracing the Florida State QB's Roots
Is Dillon Gabriel Related to Roman Gabriel? Fact Check
Dillon Gabriel Ethnicity and Nationality: Tracing the Oklahoma Sooners QB's Roots