Dillon Gabriel, the University of Oklahoma's left-handed quarterback, is taking the college football world by storm. After a few early season losses, Gabriel has led the Sooners on a tear, winning several games in a row and putting himself in the Heisman Trophy conversation.
But one question remains on the minds of many fans: is Gabriel related to Roman Gabriel, the legendary NFL quarterback? Let's find out.
Is Dillon Gabriel Related to Roman Gabriel?
| | |
| --- | --- |
| Fact | Information |
| Relation Status | Not Related |
| Roman Gabriel's Position | Los Angeles Rams, Quarterback |
| Dillion Gabriel's Position | Oklahoma Sooners, Quarterback |
| Shared Surname | Gabriel |
| Documented Family Ties | None |
| Differentiating Factors | Differing Birth Certificates and Era |
No, Dillon and Roman Gabriel are not related. Although they play the same position and share the same surname, there seem to be no family ties among them. Despite some coincidences like Dillon Gabriel's younger brother is also named Roman Gabriel, there is no link.
Roman Gabriel was a quarterback who played in the 60's and 70s for the Los Angeles Rams and was named a two-time ACC Player of the Year. Dillon Gabriel is still a college football player with a lot of time on his hands to go on to achieve great things.
Who is Roman Gabriel?
Roman Gabriel was notable for his strong arm and for being the first Filipino-American NFL quarterback in the 60s. Born on August 5, 1940, in North Carolina, to Edna Mae Wyatt and Roman Ildonzo Gabriel Sr, Roman was the second overall pick in the 1962 NFL Draft and played for the Los Angeles Rams for 11 seasons and another 5 with the Philadelphia Eagles.
Roman grew up poor and sick, but his legendary NFL career ended in 7 Hall Of Fame. He became an inspiration to many and a role model for all the other Filipino kids. Here's an overview of his achievements-
NFL Most Valuable Player (1969)
NFL Comeback Player of the Year (1973)
First-team All-Pro (1969)
2× Second-team All-Pro (1967, 1968)
4× Pro Bowl (1967–1969, 1973)
NFL passing yards leader (1973)
2× NFL passing touchdowns leader (1969, 1973)
Bert Bell Award (1969)
2× Second-team All-American (1960, 1961)
2× ACC Player of the Year (1960, 1961)
NC State Wolfpack No. 18 retired
Rams' career records for touchdown passes (154)
Who is Dillon Gabriel?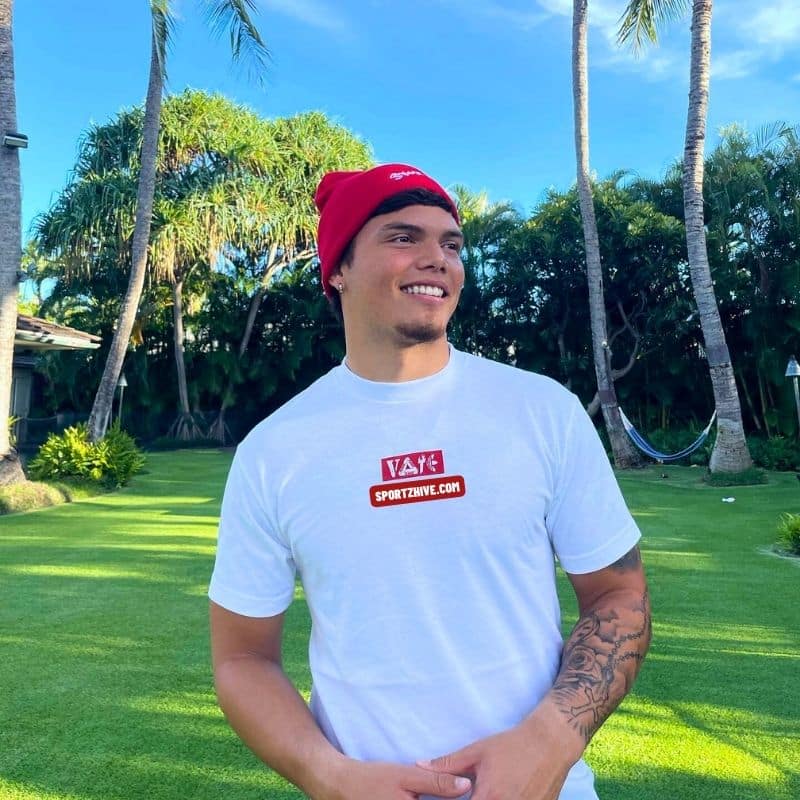 Dillon Gabriel was born in Mililani, Hawaii on December 28, 2000.  Dori, his mother, is a former college softball player, and Garrett, his father, was a quarterback at the University of Hawaii in the late 1980s and early 1990s. Dillon also has two brothers: Garrison Gabriel, a Pop Warner football player, and his younger brother, Roman Gabriel.

Although he is only a college player, Dillon Gabriel has already accomplished a great deal. Here are just a few of his achievements and accolades, besides his Heisman candidacy:
Gatorade Hawaii Player of the Year (2018)
Honolulu Star-Advertiser All-State Player
OIA Offensive Player of the Year
Three-time first-team All-Oahu Interscholastic
Big 12 Offensive Player of the Week (2023)
Davey O'Brien QB Class of 2023 finalist
Unitas Golden Arm Award finalistMost passing yards in a game by a freshman (3653)
Misunderstanding Due To Surnames
Let us be totally clear, both are exceptional quarterbacks and both share the same last name. However, they are not related in any shape or form. We can understand how people can make those connections, given that Dillon's father and older brother were also pro footballers.
Despite his young age of 22, Dillon is doing his best and has a long and bright future ahead of him. He still has many accomplishments to achieve and records to break. We should not compare his career to those of Hall of Famers simply because they share a surname.
Recommended For You:
Dillon Gabriel's NIL Deal Value: Oklahoma QB's Earnings Revealed
Meet Spencer Rattler's parents, Mike and Susan Rattler: South Carolina QB's family explored
Who is Brian Kelly's wife, Paqui Kelly?