Nikola Jokic, the formidable 6-foot-11 center representing the Denver Nuggets, has etched his name in the annals of basketball glory. Renowned for his exceptional accomplishments, including clinching two MVP titles, Jokic has garnered widespread recognition from both enthusiasts and pundits alike, affectionately labeling him as "The Joker." This piece endeavors to explore the genesis of Jokic's distinctive nickname, delving into its fascinating correlation with the notorious DC Comics supervillain. Join us as we unravel the story behind why Nikola Jokic is called "The Joker" and how this moniker has become synonymous with his basketball legacy.
The Birth of "The Joker"
The Uncommon Surname: Jokic, pronounced as "yo-kitch," derives from his Serbian lineage, posing a challenge for fans who often grapple with its accurate pronunciation. Consequently, a more accessible alternative emerged: The Joker.
A Clever Wordplay: Jokic's moniker cleverly incorporates three letters shared with his actual surname, allowing for a simpler recollection and enunciation. While drawing inspiration from the malevolent figure found within DC Comics, it is important to note that the nickname does not reflect Jokic's distinctive personality or character traits.
Mike Miller: The Man Behind the Nickname
Former Teammate's Creativity: Nikola Jokic's fellow Nuggets player, Mike Miller, encountered difficulties when attempting to pronounce Jokic's surname. Consequently, Miller's creativity sparked the birth of a nickname that has since gained widespread popularity.
Nikola Jokic "Joker" ???? is the 20'-21' NBA MVP????
•#smsports #nikolajokic #MVP #jokic pic.twitter.com/FhNu1GrP49

— Will Whitty (@WhittyCreative) June 8, 2021
Miller's Influence: Although Miller's on-court contributions for the Nuggets were modest, his role as a seasoned mentor to the team's budding talents left an indelible mark.
Mike Miller, renowned for his fruitful 17-year NBA career highlighted by two championship rings secured with the Miami Heat, etched his name in basketball lore. Among his most memorable displays was his pivotal performance during Game 5 of the 2012 NBA Finals, where he played an instrumental part in clinching a crucial victory. While Miller's statistical achievements during his time with the Denver Nuggets may not have been as illustrious, his presence as a veteran leader and mentor left a lasting impact on the team's youthful roster, including the likes of Jokic.
The Humorous Side of The Joker
On-Court Intensity: While Nikola Jokic exudes a serious demeanor during games, he is renowned for his genuine sense of humor off the court.
Is Jimmy Butler Michael Jordan's Long-Lost Son? Exploring the Claims
Jokic's Sense of Humor: The adoption of the nickname aligns harmoniously with Jokic's lighthearted and amusing personality, further cementing its pertinence.
The Joker's Cultural Impact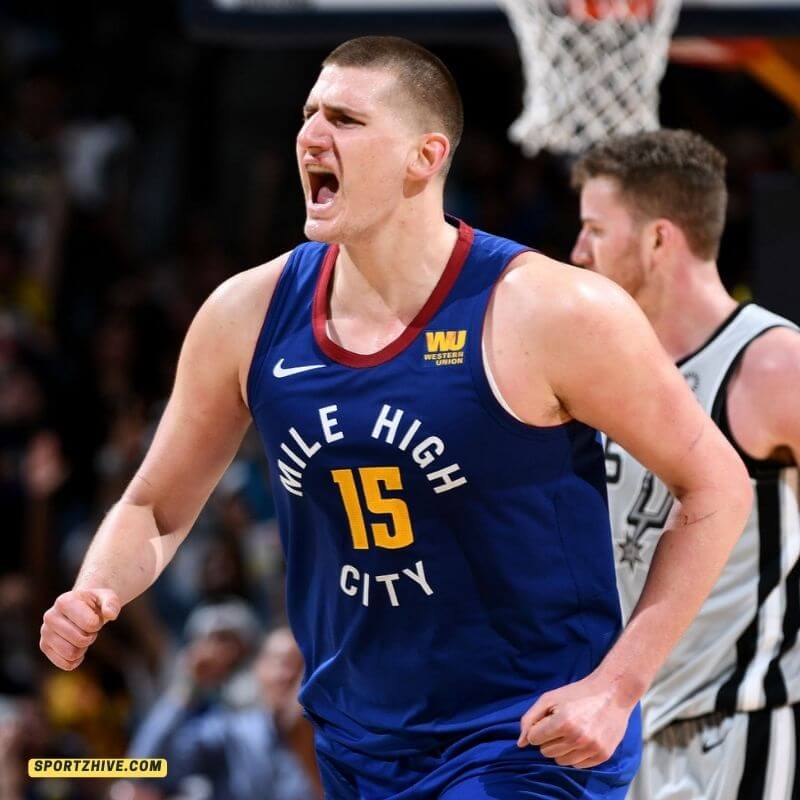 Wholehearted Acceptance: Nikola Jokic has fully embraced his nickname, reveling in its extensive adoption by fans and media alike.
Serbian Basketball Club's Transformation: Such is Jokic's immense popularity that a Serbian basketball club, previously recognized as "KK SO Koš," underwent a rebranding in 2017, choosing to adopt the new name of "KK Joker." This decision was directly influenced by Jokic's widespread acclaim and influence in the basketball realm.
The Good-Natured Joker
A Far Cry from the Villain: While the nickname may evoke associations with the notorious Joker character from DC Comics, Nikola Jokic's true nature is anything but sinister in real life.
Beloved Athlete: Jokic proudly claims the distinction of being Serbia's second-most renowned athlete, trailing only behind tennis icon Novak Djokovic. He is deeply adored by his hometown and relishes in good-natured banter exchanged with his older brothers.
Investigating Kobe Bryant's Last Words : A Closer Look at NBA Icon's Final Moments
Conclusion
To sum up, Nikola Jokic's moniker, "The Joker," has become synonymous with his impressive basketball abilities and captivating personality. Coined by his former teammate Mike Miller, this play on words has gained tremendous popularity, despite lacking any connection to the DC Comics character. As Jokic continues to make a significant impact in the NBA, the enduring use of this nickname serves as a testament to his remarkable talent, infectious humor, and endearing presence both on and off the court.