Alexander Ovechkin is widely regarded as one of the most exceptional players in the history of the NHL, and his recent achievements have only solidified that stance. His impressive tally of 822 goals now places him second on the all-time list of NHL goal scorers, and there is a strong possibility that he could surpass the great Wayne Gretzky's record of 894 goals before he hangs up his skates. Let us delve deeper into the remarkable journey of Ovechkin's career.
Personal Information
Full Name
Alexander Mikhaylovich Ovechkin
Date of Birth
September 17, 1985
Place of Birth
Moscow, Russia
Height
6'3″ (191 cm)
Weight
236 lbs (107 kg)
Career Information
Position
Left Wing
Current Team
Washington Capitals
NHL Debut
October 5, 2005
Draft
1st overall, 2004 NHL Entry Draft
Awards
Hart Memorial Trophy (3x), Maurice "Rocket" Richard Trophy (9x), Art Ross Trophy (1x), Conn Smythe Trophy (1x), Calder Memorial Trophy (1x)
Personal Life
Spouse
Anastasia Shubskaya
Children
Sergei Ovechkin
Charitable Work
Ovechkin has been involved in numerous charitable efforts, including supporting the American Special Hockey Association, the Children's National Hospital, and the Washington Capitals' "Wish Upon A Par" program.
Who is Alexander Ovechkin?
Early Life and Career
Alexander Ovechkin is a renowned Russian ice hockey player who currently serves as the captain of the National Hockey League (NHL) team, the Washington Capitals. Born on September 17, 1985, in Moscow, Ovechkin grew up in a sports-oriented family, with his father Mikhail Ovechkin, a former professional soccer player and coach, and his mother Tatyana Ovechkina, an Olympic basketball player.
Ovechkin's love for hockey began at an early age, and he showed exceptional skill and aptitude for the sport from the age of two. He started playing for Dynamo Moscow's youth hockey program and made his professional debut for the team when he was only 16 years old. His exceptional performances in the Russian Superleague caught the attention of NHL scouts, leading to his selection as the first overall pick by the Washington Capitals in the 2004 NHL Entry Draft.
Professional Career
Alexander Ovechkin's dominance in the NHL has been nothing short of impressive in recent years, where he has consistently showcased his exceptional skills and leadership qualities as the captain of the Washington Capitals. He has won the Rocket Richard Trophy for an outstanding nine times and is widely regarded as one of the greatest goal scorers in the history of the NHL, currently ranking sixth all-time in goals scored. Ovechkin's physical play has also been recognized, earning him a spot on the NHL All-Star team eleven times.
In 2018, Ovechkin's contributions helped lead the Washington Capitals to their first-ever Stanley Cup championship in franchise history. He was instrumental in the playoffs, scoring an incredible 15 goals and tallying 12 assists in 24 games. Ovechkin's exceptional performances earned him the prestigious Conn Smythe Trophy as the most valuable player of the playoffs. Ovechkin's continued excellence on the ice has cemented his place as one of the all-time greats of the sport.
Physical Presence
Standing at an imposing 6-foot-3 and weighing in at 236 pounds, Ovechkin is a formidable physical presence on the ice. His exceptional combination of speed, skill, and power has set him apart as one of the most remarkable players in the history of the NHL. Ovechkin is well known for his signature one-timer from the top of the left circle, a shot that has become one of the most iconic and renowned shots in NHL history.
Alexander Ovechkin's Achievements and Records
Stanley Cup Victory
The year 2018 will always be remembered as the year Alexander Ovechkin led the Washington Capitals to their first-ever Stanley Cup triumph. Despite being one of the top teams in the NHL for many years, the Capitals had always faltered in the playoffs. However, under Ovechkin's captaincy, the team finally broke through and secured the championship title.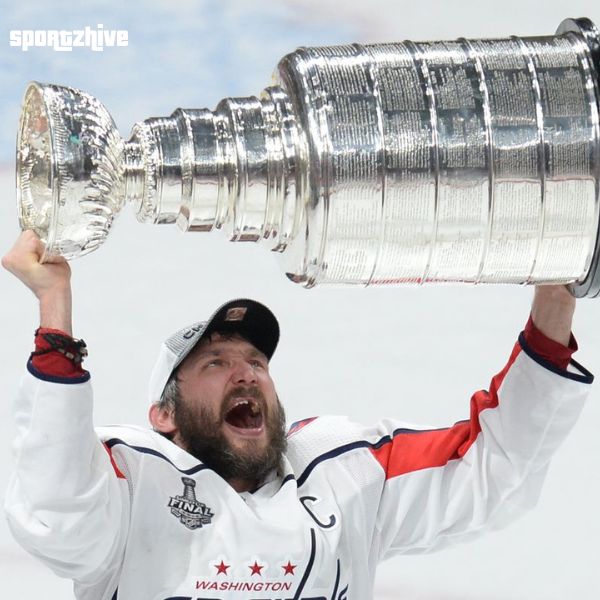 Ovechkin's performance throughout the playoffs was nothing short of exceptional. He netted a whopping 15 goals and scored an impressive 27 points in 24 games, producing some crucial performances in the later rounds of the competition. Ovechkin's leadership qualities and indomitable spirit played a crucial role in securing the Capitals' triumph, which also saw him being awarded the prestigious Conn Smythe Trophy as the MVP of the playoffs.
Scoring Records
Alexander Ovechkin is widely considered to be one of the most prolific goal-scorers in the annals of NHL history. He has an impressive collection of nine Maurice "Rocket" Richard Trophies under his belt, recognizing him as the league's leading goal scorer, and has amassed an astonishing eight 50-goal seasons, sharing the all-time record with legends Wayne Gretzky and Mike Bossy.
In 2021, Ovechkin surpassed Sergei Fedorov's record of 1,179 points, making him the NHL's highest-scoring Russian-born player of all time. More recently, in April 2022, he scored his 822nd career goal, ranking him second on the NHL's all-time goal-scoring list. Ovechkin's prolific scoring shows no signs of slowing down, as he continues to top the league in goals scored and is poised to overtake Gretzky's all-time record of 894 goals.
Other Achievements
Alexander Ovechkin's career is replete with numerous awards and accolades. He has won several major awards in the NHL, including the Hart Trophy, the Ted Lindsay Award, and more.
Awards and Accolades
Hart Trophy (MVP)
2008, 2009, 2013
Ted Lindsay Award (most outstanding player)
2008, 2009, 2010, 2014
Calder Trophy (best rookie)
2006
NHL First All-Star Team
2006-2009, 2010, 2013, 2014, 2018
NHL Second All-Star Team
2011, 2012
Gold Medal (World Championships)
2008, 2012
Gold Medal (Olympics)
2018
Gold Medal (World Cup of Hockey)
2004
Alexander Ovechkin's Personal Life
Family Background
Alexander Ovechkin hails from a family with a strong athletic background. His mother, Tatyana Ovechkina, was a member of the bronze medal-winning Soviet Union basketball team at the 1980 Summer Olympics held in Moscow. His father, Mikhail Ovechkin, is a former professional soccer player and coach in Russia.
Ovechkin is married to Anastasia Shubskaya, daughter of renowned actress Vera Glagoleva and film director Kirill Shubsky. Together, the couple has two children – a son named Sergei and a daughter named Ilia. Additionally, Ovechkin has made his stance on LGBTQ+ rights in Russia publicly known, vocalizing his opposition to the country's anti-gay laws.
Marriage and Children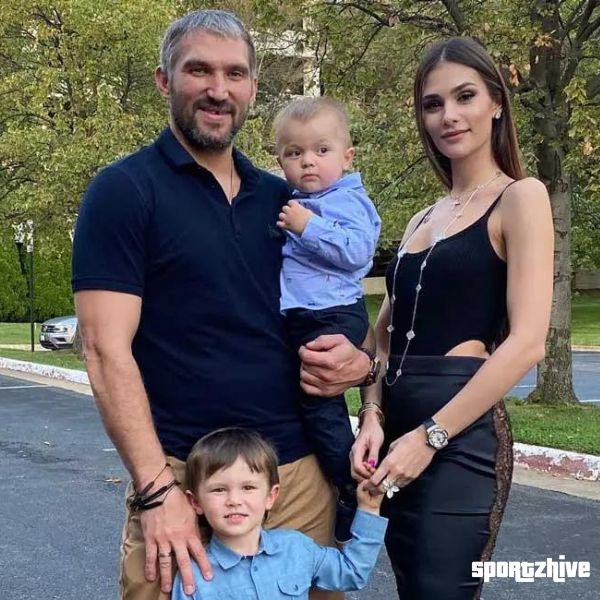 In 2016, Alexander Ovechkin tied the knot with Anastasia Shubskaya whom he met during a commercial shoot in Moscow. The couple typically keeps their personal affairs away from the limelight, though they've shared a few glimpses of their family life on social media. They are blessed with two children, a son named Sergei born in August 2018, and a daughter named Ilia born in August 2020. Besides his passion for hockey, Ovechkin relishes spending his leisure time on the golf course and fishing.
Alexander Ovechkin's Impact on Hockey
Legacy
Alexander Ovechkin has left an indelible mark on the sport of hockey. Since his debut in 2005, he has consistently been one of the NHL's most formidable players, with his impressive scoring ability and physicality serving as a model for countless young players. Ovechkin's dynamic style of play has also revitalized the importance of scoring goals in the league, sparking renewed excitement among fans and players alike.
Off the ice, Ovechkin has been equally influential. He has used his high-profile platform to advocate for social issues such as LGBTQ+ rights and racial equality, further cementing his status as a role model for millions of fans worldwide. Ovechkin's unwavering dedication to hockey and his commitment to using his voice for positive change has made him a beloved figure across both the United States and Russia.
Endorsements and Business Ventures
Alexander Ovechkin's dominance in hockey has not only earned him countless accolades and records but also a string of endorsement deals and entrepreneurial endeavors. As a brand ambassador for Nike, CCM, and Papa John's, he has also appeared in advertisements for Coca-Cola and Bridgestone.
Aside from his endorsement deals, Ovechkin has ventured into the business world. He launched his own clothing line, "Ovi O's," which includes a range of merchandise such as t-shirts and hats. He also established a chain of hockey-themed restaurants called "Ovechkin's Grill," both of which have been met with great success. His knack for entrepreneurship off the ice is just as impressive as his hockey skills on the ice.
Conclusion
To summarize, Alexander Ovechkin's career is nothing short of legendary, with an extensive list of accomplishments and records both on and off the ice. His influence on the game of hockey and his commitment to social causes have earned him widespread admiration and respect. Ovechkin's impact extends beyond the sport, with successful business ventures and endorsement deals that highlight his entrepreneurial spirit. All in all, he is a true icon and a role model for generations of aspiring athletes.