Camryn Bynum is an American football safety for the Minnesota Vikings, who was drafted by the Vikings in the fourth round of the 2021 NFL Draft and since then he has established himself on the court as a key defensive player. Off the field, Camryn is known for his fun-loving, joyful personality, which he regularly shares with his fans on social media.
In a match between the Vikings and Saints on October 12, 2023 something special happened; Camryn Bynum's wife, Lalaine Haddad made her appearance on the sidelines to support her husband. Naturally, fans are now excited to learn more about her. Let's delve into everything we currently know about Lalaine Bynum in this article.
Who is Camryn Bynum's Wife, Lalaine?
| | |
| --- | --- |
| Full name | Lalaine Haddad Bynum |
| Nationality | Philippines |
| Ethnicity | Filipino |
| Spouse | Camryn Bynum |
| Engagement | February 01, 2023 |
| Wedding | March 02, 2023 |
Lalaine Bynum aka Lalaine Haddad is a professional dancer from the Philippines. Camryn met Lalaine for the first time during a family trip to Dubai in 2022, where his kin encouraged him to approach Lalaine and lit a conversation. From that point, both felt a spark that eventually led to marriage.
"So I saw her dancing. She was the cutest one up there on the stage. Caught my eye. Something about her, she was up there clowning, having fun, just like I would if I was up there performing and if I knew how to dance. All the dance team left and went back to the changing room. So it was just Lalaine and I, one on one. So there, my aunts were like, okay, now it's your turn guys, take a picture. And that's how it started, got swept off my feet, and here we are. " – Camryn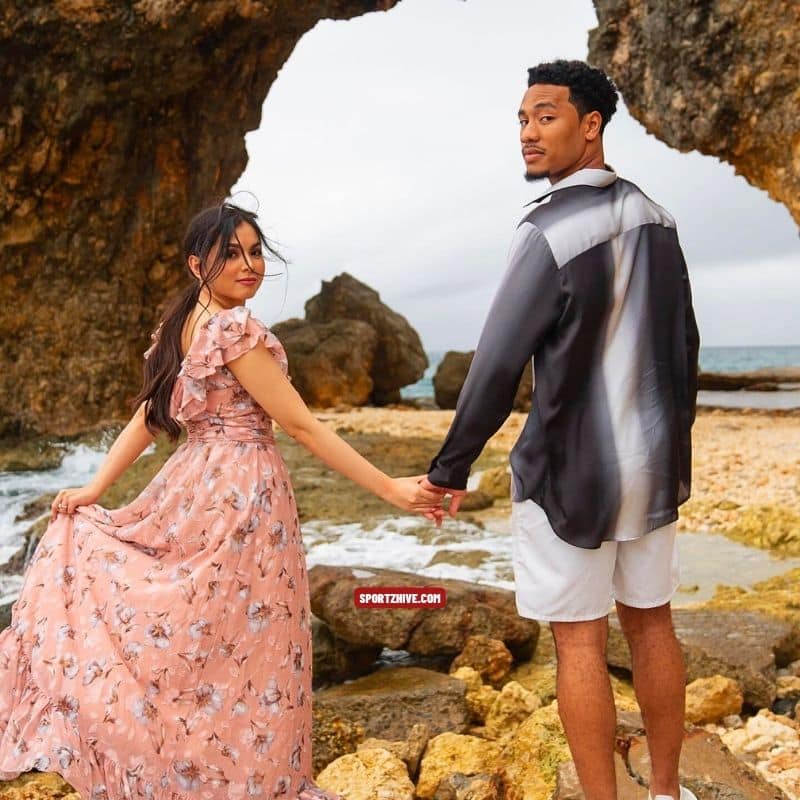 In another video, Camryn said: "When I met her for the first time, just in the few moments of our first time together, it was weird, but I loved it. I told her, out of everyone, you're my favorite, and I told her that there's something different about her. I somehow knew and felt that she was the woman of God before I even knew anything about her. That had to have been God speaking to me, or something. After being single for so long and not having any desire to be with anybody, she came along and changed my mind. Jesus opened my heart out of nowhere, and put that peace in my heart that I couldn't explain. And she came in and changed my life."
The Propose and Engagement Plan
When we talk about Camryn Bynum, it's all about fun and craziness, and so is how he planned to propose to Lalaine.
In a video shared on his Instagram, Camryn describes his proposal setup, which was held on February 1, 2023. He describes each step, including music cues, fog effects, and a video montage of their relationship. Camryn intends to surprise Lalaine during what she thinks is a video shoot, culminating in his proposal.
The proposal soon took on a celebratory engagement party outlook, with all the close family members taking part in it.
Marriage
Camryn Bynum and Laine got married on 02 March 2023 at The Savoy Hotel, Boracay, Philippines. With a beautiful seaside view, the couple's wedding was a personal ceremony which was witnessed by only the close family members.

The wedding theme was rose pink and white, and the buffet-style food venue was full of Filipino dishes and a three-tiered wedding cake.
Camryn Bynum and his Wife Lalaine's Ethnicity
Camryn is a California native of Filipino descent, and Lalaine also shares Filipino heritage. Both actively contribute to their community through the Bynum Faith Foundation in every way possible.
During the off-season, Camryn loves to visit his ancestral land and spend time with his mother and the community there. He wears both the US and Philippine flags on his helmet to show his commitment and patriotism to both countries.
In his June 2022 off-season visit to the Philippines, Camryn organized a relief camp for typhoon victims in Baybay, Leyte. Coincidentally, this is where his grandparents and his wife's family are from, which made it easier for him to scale up the campaign.
Camryn Bynum also organizes many flag football tournaments to promote American football in the Philippines by meeting with community children and local football players on a regular basis and providing them with equipment, coaching, and other support.
Camryn Bynum's Wife is Finally in the US
During the match on November 12, 2023, Lalaine was finally seen on the sidelines watching her first-ever NFL match. Since Camryn got married and arrived back in America to play for his team in the 2023-24 season, Lalaine had been facing hard times getting her US visa approved, being rejected twice.
Bynum had patiently waited for months to meet his wife, but eventually, after two rejections, he decided to talk about it in post-game interviews and on social media, requesting anyone who could help him get his wife's tourist visa approved.
After the video went viral, Minnesota senators Amy Klobuchar and Tina Smith got in touch with Camryn to help him with the situation. And finally, with all efforts, Lalaine is now in America for the first time.
NFL shared a tweet in which Camryn was seen thanking everyone, including fans, for making this happen. In his own words: "We made it out here. It's a movie. Thanks to all, wife is here. All Glory to God. Now let's go ball baby. Whoo!"
Recommended For You:
Why do NFL Coaches Wear Brown Camouflage?
How many Diggs brothers are in the NFL in 2023?
Richard Sherman's IQ Score: Is the former NFL Player Smart Enough?