Carl Nassib is one of the most well-known NFL players and best defensive ends. Carl Nassib has openly admitted he is gay and his fans, and teammates are proud of him. He is in a relationship with Søren Dahl. But who is Søren Dahl and what is his history with NFL star Carl Nassib?
Carl Nassib is the type of person who keeps his life very private, but a part of his life has been highlighted for a few years now, and in this blog, fans will get to know about it.
Who is Søren Dahl – Carl Nassib's Boyfriend
Søren Dahl, a swimmer from Denmark, participated in the men's 200-metre freestyle relay event during the 2016 Summer Olympics. He achieved success by winning two NCAA titles at the 2016 and 2017 NCAA Division I Men's Swimming and Diving Championship.
In pursuit of his dreams, Dahl relocated to the United States to pursue education at North Carolina State University in 2015. There, he emerged as one of the swimmers in the ACC conference.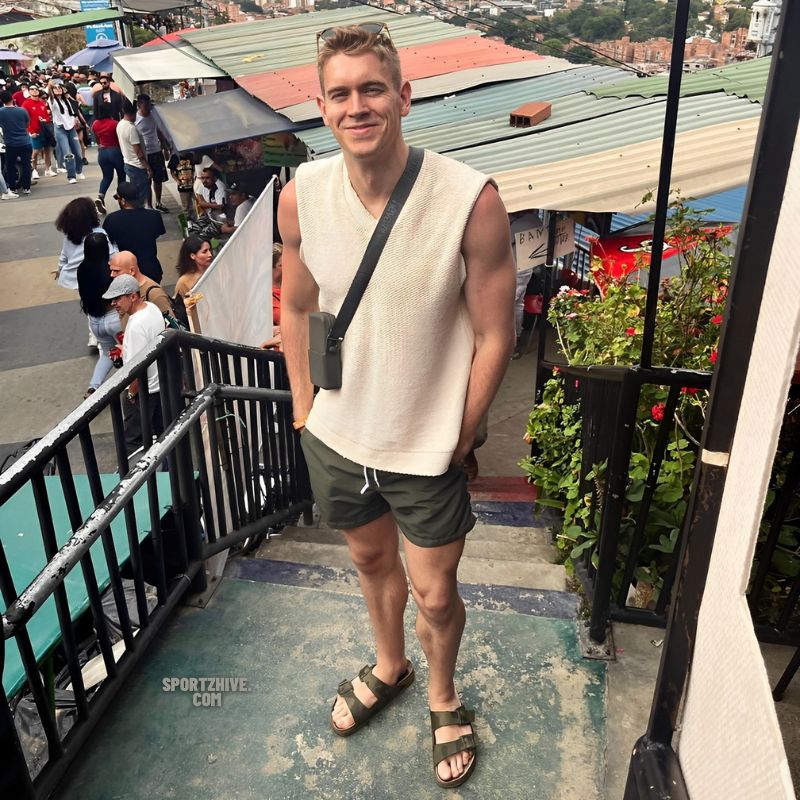 Søren Dahl's Early Life And Education
Born in Copenhagen, Denmark, in 1993, Dahl discovered his passion for swimming at 10. He is currently a graduate student at the University of North Carolina at Chapel Hill. Søren has displayed potential in the sport. His abilities were showcased when he earned a bronze medal in the 4 × 200-meter freestyle relay at the 2012 European Junior Championships.
Søren Dahl Career
In an achievement for both NC State and ACC conference, he secured victory in the NCAA championship for the 400-meter freestyle relay as part of the NC States team in 2016. Additionally, he was impressed with a fourth-place finish in the competition of the NCAA Championships 200-meter freestyle event.
Dahl was proudly chosen to represent Denmark on the stage of Rio de Janeiro during the anticipated Summer Olympics of 2016. His contributions were crucial as he competed alongside his teammates in the men's four 200-meter freestyle relay event, ultimately securing a twelfth-place finish.
Olympic Games: 12th place in the men's 4 × 200-metre freestyle relay (2016)
NCAA Championships: 2x champion (400 freestyle relay, 800 freestyle relay)
European Junior Championships: 1x bronze medalist (4 × 200-metre freestyle relay)
ACC Championships: 10x medalist
Atlantic Coast Conference Postgraduate Scholarship
Jim McKay Scholarship
How did Carl Nassib and Søren Dahl meet?
Even though it's unclear when these two elite players met, back in 2022, Dahl shared an Instagram pic that hinted the two of us are together. The pic captioned "kicking off 2023 with my man and trip to the playoffs." Nassib had publicly announced in 2021 that he was gay, and his dating with Dahl was confirmed in January 2023.
These two might've been dating since 2022, but the news was made official in 2023. During his 30th birthday, Carl said he loved his boyfriend and posted pictures with him.
Does Carl Nassib get hate for being an LGBTQ member?
When he revealed his sexuality, he played for the Las Vegas Raiders. The news was shocking for many fans who didn't like this; however, Carl received a lot of love and support. His team supported him and posted that they were proud of him. Later, Carl even gave $100k to the Trevor Project, showing his support towards the LGBTQ community.
Many fans were concerned that his coming out as gay would make his other teammates awkward, but in an interview, Carl said everything is as normal as ever, and his teammates support him for who he is. Carl did receive some hate, but the love and support of people for him was on a different level.
After seven seasons and over 100 games, Carl Nassib announced his retirement on September 6, 2023. Many fans said that's because he isn't getting any support now, but to their truth, Carl has taken retirement so he could focus on his own company called Rayze.
Rayze is a non-profit group social media app that connects people. His retirement was shocking, but his fans are still devoted and will support him regardless.
Conclusion 
Carl Nassib and Søren Dahl are in love, and they are not hiding it. The love birds have announced they are together, and fans ship them together. The NFL also had to let go of one of the best defensive ends, but Carl will be remembered, and the company he is working on will make it out big. 
People Also Read:
USFL Highest Paid Players in 2023: See How Much an Average USFL Player Earn
NFL's New Clock Rule:  Why Clock Won't Stop When a Player Goes Out of Bounds in 2023
Fact Check:  Is Jimmy Horn Jr. Related to NFL Legend Joe Horn?
70+ Best Accounting Fantasy Football Names