Joe Burrow, the quarterback of the Cincinnati Bengals, is one of the top and highest-paid players in the NFL. The NFL Comeback Player of the Year 2021 is globally famous and loved by millions, and girls are just crazy for him. However, a rumor has been spread that Joe Burrow is engaged to his long-term girlfriend, Olivia Holzmacher.
This news has taken the internet by storm, and fans are going wild over this news. But Is Joe Burrow Engaged to Olivia Holzmacher, or is it all just a false rumor? This whisper started in August, and here is everything fans need to know about this gossip.
Joe Burrow's Relationship Status
It does seem like Joe Burrow has been engaged to Olivia Holzmacher. The first thing that makes this rumor look true is that Adam Pacman Jones commented on The Pat McAfee Show, "I think life is great for Burrow" and "He recently got engaged, too". Pacman said these words on a podcast.
However, Joe Burrow nor Olivia Holzmacher has made it official "yet." Other than this, the Cincinnati bar has introduced a new shot called "Sad Girl Shot." This shot costs only 9 cents. It will be available till the rumor is confirmed. This shot is made of Baileys Irish Cream, chocolate sauce, and whipped cream. As for his current relationship status, he is engaged to Olivia Holzmacher but hasn't made it official.
Olivia Holzmacher: Who is She?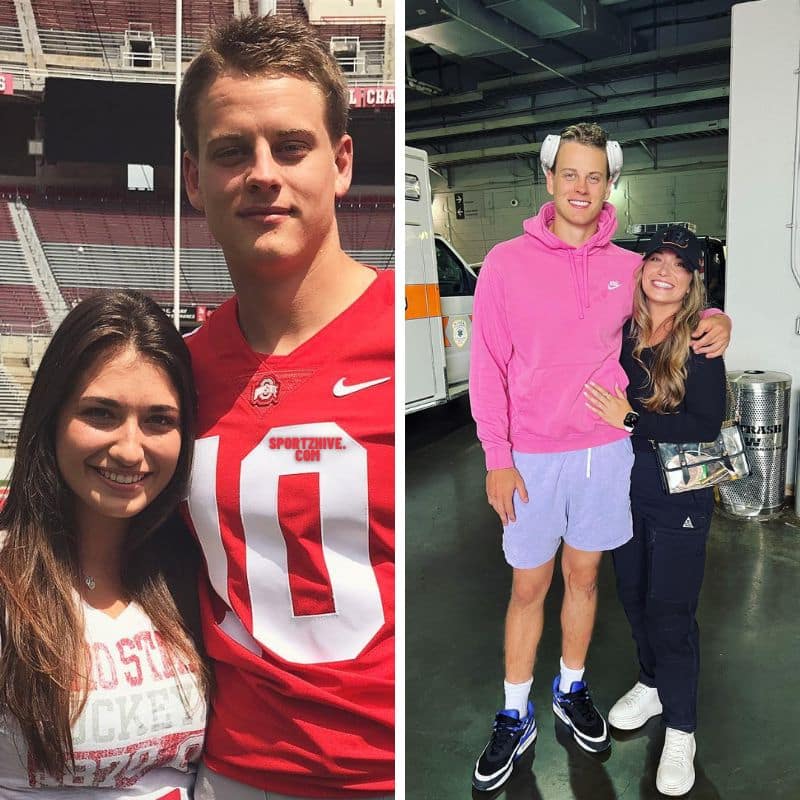 Olivia Holzmacher is an internet personality with over 153k followers on Instagram. Olivia met Joe Burrow in high school and has been with him for over six years. Olivia has been one of his biggest supporters, always there to celebrate his victory and achievement. It isn't shocking that they are engaged; they've been high-school sweethearts and always supportive and caring towards each other. It does show that both of them were meant to be together.
Social Media Clues
There are a number of Twitter posts confirming the rumor is true. E! NEWS, Daily Loud, NFL Alert, etc., have said the rumor is true. However, our couple hasn't posted anything. The last post by Olivia Holzmacher was made on July 9, and in the comments section, fans are congratulating her. As for Joe Burrow, his Instagram comment section is filled with fans spamming and congratulating him.
Joe Burrow Injury Update
Joe Burrow missed a month of training because of a calf injury. However, on 10 September, in Cleveland, Joe Burrow played against the Browns. He has fully recovered and is back on the field. Unfortunately, the Cincinnati Bengals lost their first match of the season against the Browns.
Joe Burrow gave an interview saying that one loss doesn't decide the whole season, and the team isn't panicking. Joe has assured the fans that Bangles will emerge strong as the season progresses.
Conclusion
To conclude, the rumor surrounding Joe Burrow's engagement with Olivia Holzmacher has stirred up considerable attention and discussion among fans and media outlets. While there have been social media posts and comments by individuals suggesting that the engagement is true, neither Joe Burrow nor Olivia Holzmacher has officially confirmed it at the time of this report.
People Also Read:
What is Patrick Mahomes' race? Details on Chiefs QB Ethnicity
30+ Gender Neutral Fantasy Football Name Ideas (2023)
Inappropriate Fantasy Football Team Names – Vulgar, Offensive, Dirty and NSFW Ideas (2023)
2023 Fantasy Football Punishments: The Best Ways to Humiliate the Loser