There have been intriguing reports circulating on the internet that suggest Jimmy Butler may be the son of basketball legend Michael Jordan. These claims stem from allegations that Jordan fathered a child outside of his marriage in 1988, and subsequently paid the child's mother to keep the matter a secret and stay out of their lives in order to protect his family.
The speculation goes on to suggest that the child, who bears a resemblance to Jordan, was kicked out of their home by the mother when the payments ceased at the age of 13. Butler's upbringing appears to align with this rumored narrative, adding further weight to these suspicions.
Jordan has five children with his ex-wife, while Butler was born to Jimmy Butler II and Londa Butler.
Butler himself has confirmed that Jimmy and Londa are his biological parents, despite the fact that his father left the family when he was an infant and his mother abandoned him at the age of 13.
While Jordan has been rumored to have fathered a child outside of his marriage in 1988, a year prior to Butler's birth, there is no evidence linking Jordan to Butler's mother, and thus no basis for the speculation that he is Butler's father. In short, the rumor lacks sufficient evidence to draw any conclusions.
How Jimmy Butler's game resembles that of Michael Jordan
It is unfortunate that some of the theories surrounding Michael Jordan and Jimmy Butler's relationship are not only unfounded but potentially racist. While some people may believe that the two athletes bear a striking resemblance, the extent to which this is true is largely a matter of personal opinion.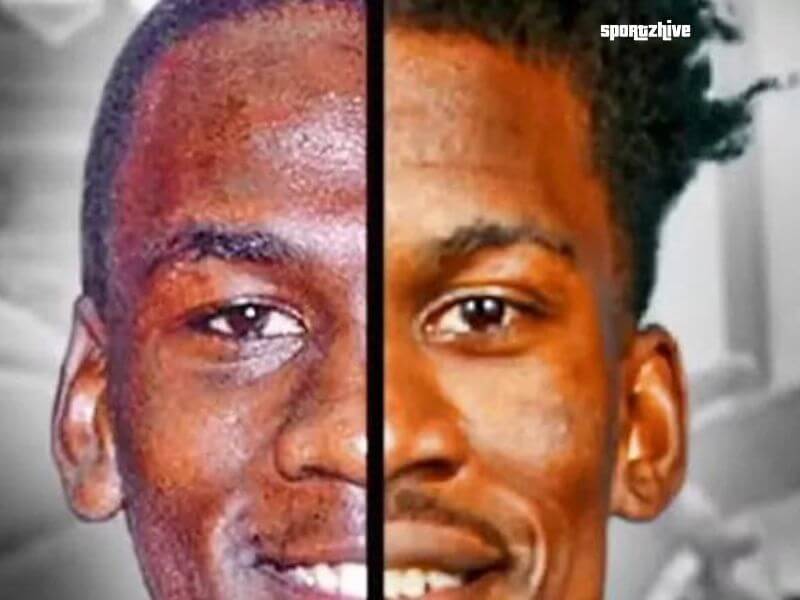 When considering physical attributes, however, we must take into account factors such as height. Michael Jordan has been listed as 6'6″ tall, while Jimmy Butler is listed as one inch taller at 6'7″. It is worth noting that individuals within this height range are relatively rare, to begin with.
While it is true that Jimmy Butler and Michael Jordan share a connection through their shared history of playing for the Chicago Bulls, as well as a past endorsement deal, their relationship appears to be limited to these professional interactions.
Additionally, there are rumors that Jordan once volunteered at a basketball camp where Butler was present as a young participant. However, beyond these instances, there is no evidence to suggest a familial or personal relationship between the two athletes.
The Close Call: How Jimmy Butler came close to Breaking Michael Jordan's Record
In a remarkable Game 4 triumph over the Milwaukee Bucks, Jimmy Butler of the Miami Heat delivered an outstanding performance, scoring an incredible 56 points while shooting an impressive 67.9% and securing nine rebounds.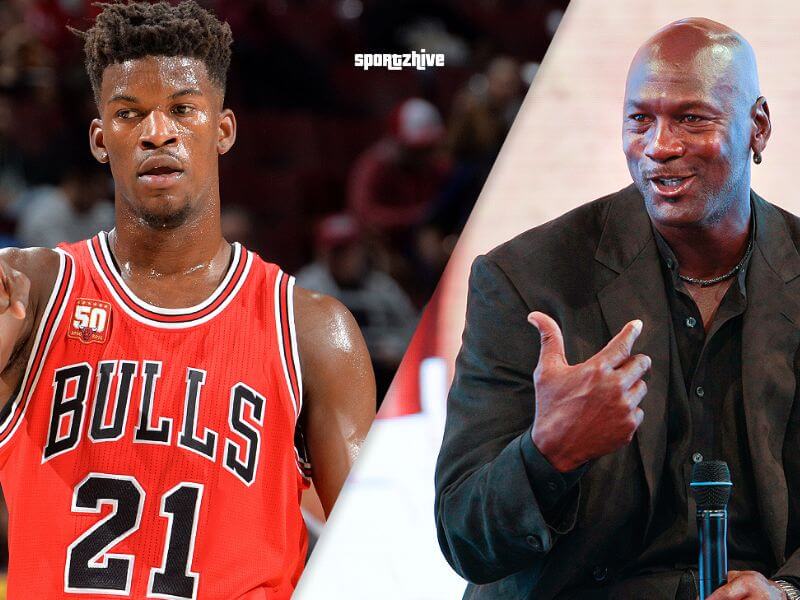 This scoring feat not only helped lead his team to victory but also placed him in rarefied company, tying him with NBA greats Michael Jordan, Charles Barkley, and Wilt Chamberlain for the fourth-highest score in playoff history.
While he narrowly missed surpassing Jordan's record of 63 points in a single playoff game, Butler's exceptional play once again demonstrated his status as one of the greatest playoff performers of all time. His unwavering confidence and composure in high-pressure situations set him apart, and opposing teams will need to be vigilant when he is on the court.
With his impressive playoff performances, Butler has established himself among the NBA's elite and is poised to continue generating headlines in the years to come.
Conclusion
The notion that Jimmy Butler is the son of Michael Jordan is an implausible conspiracy theory. There is no evidence to substantiate the claims that Jordan had an illegitimate child, and even if he did, it is not Butler. While the details about Butler's father are unclear, Jimmy has stated that he maintains communication with both of his parents and loves them.