LeBron James isn't a new name in the NBA world. This living legend is loved by millions of people worldwide and is considered one of the greatest players to ever exist. Fans have always wondered whether LeBron was as good in academics as he is in basketball.
In this article, we'll take a look at LeBron James' GPA and his career, to see if he was a scholar or a dropout.
LeBron James GPA in High School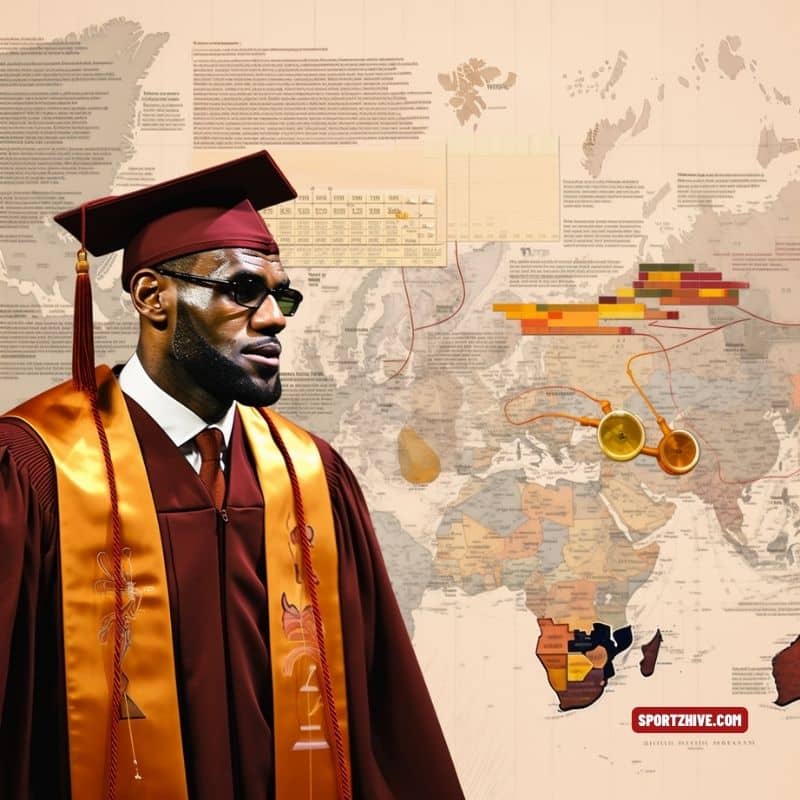 LeBron James attended St. Vincent St. Mary High School, in Akron, Ohio. Initially, he maintained a 3.5 GPA during the nine weeks of school but it later decreased to a 2.8 GPA. It's understandable considering his commitments as a standout basketball and football player.
James' academic performance may have been impacted by his involvement in activities. He actively participated in the National Honor Society, student council, and various other clubs and organizations. Additionally, he traveled extensively across the country to compete in basketball and football tournaments.
On the football team, James excelled as a receiver and defensive back. He posed a threat on offense through his ability to make plays while also demonstrating exceptional defensive skills. His contributions were instrumental in securing two state championships, for his team.
Lebron James College Academics
LeBron James never actually attended college. He chose to go into the NBA after finishing high school. While he was, in school James was highly sought after as a football player. Received scholarship offers from prominent colleges such as Ohio State, Alabama, and Miami. However, he ultimately made the decision to focus solely on basketball. His dedication paid off as he went on to establish himself as one of the best basketball players in history.
In 2022 James took to Twitter to inquire about his eligibility for playing a college sport other than basketball. Gene Smith, the athletics director, at Ohio State responded by stating that if James had never enrolled time in college and didn't compete in the desired sport following high school graduation he would indeed be eligible.
LeBron James NBA Draft Year
LeBron James was chosen as the number one pick, by the Cleveland Cavaliers in the 2003 NBA Draft. James gained attention as one of the most highly acclaimed high school basketball players ever.
He had already guided his high school team to victory in two state championships. Earned the title of National High School Player of the Year twice. Following his graduation he was selected by the Cavaliers with their pick and quickly rose to become one of the league's top players.
James is widely regarded as one of basketball's athletes throughout history. He exhibits dominance on both offense and defense while also excelling as a leader and teammate. It is, without a doubt that James will continue creating moments in years to come.
LeBron James NBA Career Achievements
LeBron James is one of the most successful players in NBA history. Here is the list of achievements:
| LeBron James Achievement | Number of Times | Years |
| --- | --- | --- |
| All-NBA First Team Selections | 13 | 2006, 2008-2018, 2020 |
| NBA All-Defensive First Team Selections | 5 | 2009-2013 |
| NBA Rookie of the Year Award | 1 | 2004 |
| NBA Assists Leader | 1 | 2020 |
| NBA MVP Awards | 4 | 2009, 2010, 2012, 2013 |
| NBA Championships | 4 | 2012, 2013, 2016, 2020 |
| NBA All-Rookie First Team Selection | 1 | 2004 |
| All-NBA Third Team Selections | 3 | 2019, 2022, 2023 |
| NBA Finals MVP Awards | 4 | 2012, 2013, 2016, 2020 |
| All-NBA Second Team Selections | 3 | 2005, 2007, 2021 |
James holds the record, for being the scorer, in NBA history both in season games and playoffs. Additionally, he is the player to have achieved the feat of scoring over 30,000 points grabbing 10,000 rebounds and dishing out 10,000 assists throughout his career.
Is LeBron James a Billionaire?
Yes, it's true that LeBron James has reached billionaire status. In 2023 he made it onto Forbes list of the world's billionaires with a worth of $1.1 billion. He's actually the NBA player to achieve this impressive milestone.
Before LeBron, Michael Jordan was a known NBA player who had become a billionaire. Throughout his career, LeBron has earned, over $431 million in salary from playing in the NBA. Has secured endorsement deals with major brands like Nike, PepsiCo and Walmart.
On top of that, he has also found success as a businessman by investing in companies, like SpringHill Entertainment, UNINTERRUPTED, Ladder, and Fenway Sports Group.
Conclusion
LeBron James wasn't an exceptional student in his Academics. However, his hard work has helped him get the status of a billionaire. LeBron is a role model for thousands of people and they all want to be like him. He has been a star on court and off the court.
Recommended For You:
Kyrie Irving's IQ Score: Is Mavs Player Smart Enough?
Ahmad Rashad Net Worth: How much will NFL Player and Sportscaster make in 2023?
Rui Hachimura Parents: Meet Makiko and Zakari Jabil